Dallas Academy of Tai Chi Chuan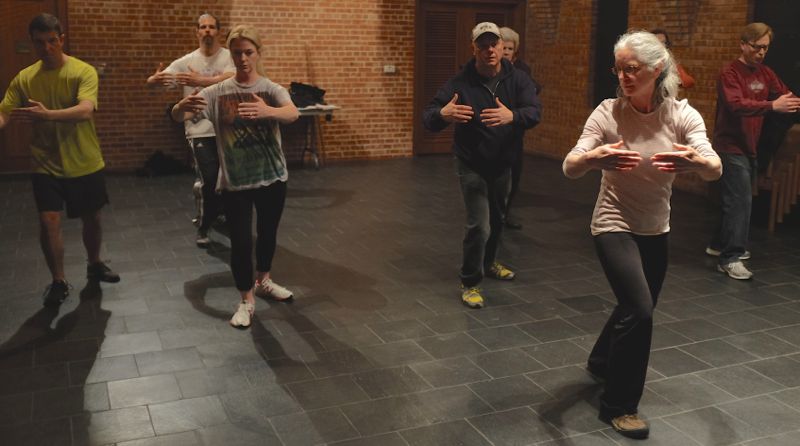 Who we are
The Academy was founded in the 1970s by Sam Yuen Chinn. The Cheng Man-ch'ing short Yang form, Yang Sword form, Yang Cane form, and Traditional Long Wu form are taught. Martial applications, push hands and advanced study are also available. The school focuses on internal development through qigong practice, stance training and forms study.

Tai chi as practiced by our group increases strength, balance, and attention through structured movement having origins in the martial arts. While the martial applications of tai chi are used to illustrate, explain, and amplify the student's understanding of the forms played, they are not the primary purpose of our practice.

Classes are taught by Sifu Susan Franks, with the assistance of senior students Walter Hofheinz and Chuck Goulding. We work together to provide individual attention within the group. Our group is informal and accommodating, but committed. While regular attendance is extremely helpful to the student, it is not required since we recognize the many demands placed on our time.

Come join us!
Class schedule
Tuesday, 7:00-8:00 p.m. (Beginner Yang and Wu styles, Advanced, Cane and other specialty forms and applications)
taught by Sifu Susan Franks
First Unitarian Church of Dallas, 4015 Normandy Avenue, Dallas, Texas 75205
Map

Introductory material is taught on a repeating six to eight week cycle, but you are welcome to begin at any time.

After the first session of each calendar month, there is an optional review following class of forms not currently included in the primary class session.

Cost: $15 per month/$5 drop-in
Instructor
Susan Franks: Susan started training Tai Chi Chuan with Sam Yuen Chinn in 1977, learning both Cheng Man-ch'ing's Yang-style Short Form and the Wu Form. Susan continued as an instructor for Sam Yuen Chinn in 1979. She has studied with both her grand masters, William C.C. Chen and Edwin Yee, in New York. Susan has participated in six national competitions and has earned thirteen national titles with eleven gold and two silver medals.

Senior students Walter Hofheinz and Chuck Goulding assist with instruction.
Private Instruction
Individual and small group private instruction can be scheduled by contacting Susan Franks directly.
Contact us
Telephone: call Susan Franks at 214.533.1243 or Walter Wm. Hofheinz at 214.363.2400
Email: Susan Franks or Walter Wm. Hofheinz
Rules and Forms
Link to Sifu Franks' demonstration of Wu style

---
If anyone has info about activities or events, or pictures and suchlike you would like on the site, email Walter at wwh@hofheinzlaw.com, or give Walter a call at 214.363.2400.